Price Includes $5,000 Instant Rebate. Offer is valid through September 30, 2023.
---
Built from the ground up, the high-performance SureColor F9470 64-inch printer is a reliable, turnkey solution for dye-sublimation applications.
Designed to meet the unique needs of high-volume, factory environments, the F9470 includes dual PrecisionCore® TFP® printheads and delivers outstanding-quality prints at speeds up to 1,169 sqft/hour1. Featuring UltraChrome® DS ink technology with High-Density Black ink, the F9470 delivers exceptional colour saturation and contrast for professional-quality apparel, soft signage, décor and more. Plus, with Epson Edge® workflow software, highly accurate roll-to-roll media support system with advanced auto paper-tension control, and high-capacity ink tanks, the F9470 supports seamless 24/7 production.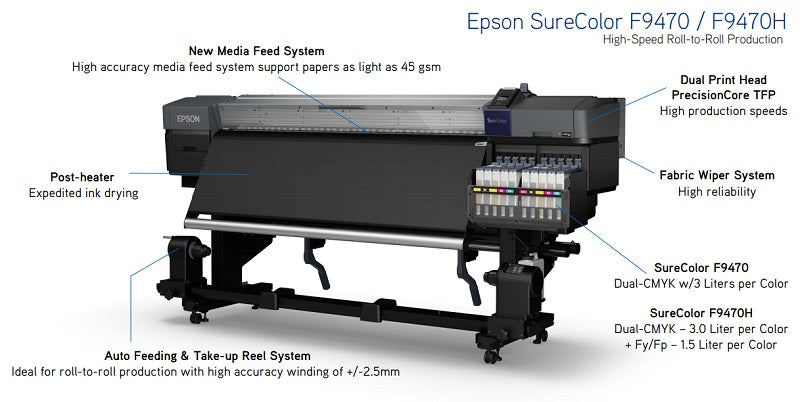 ---
Epson PrecisionCore TFP Print Heads
Commercial Grade Reliability
The PrecisionCore print chips have been co-developed with Epson UltraChrome DS ink technology for extreme reliability
Capable of high-production, with little downtime for maintenance
Fast Print Speeds
True 1,440 nozzles per inch dedicated to each CMYK channel and 720 nozzles for each Fluorescent Yellow and Pink channel
One of the fastest dye-sublimation transfer printers in its class
Extreme Print Quality
Print resolutions up to 1,440 x 720 dpi for amazing image quality
Precision dot control for outstanding clarity and sharpness for garment imaging
Finance Options
There have been no reviews


Print:
Printing Technology:
Dual advanced PrecisionCore® TFP® 8-channel, drop-on-demand, inkjet printhead with ink-repelling coating technology
Minimum Ink Droplet Size:
Variable Droplet Technology
Maximum Print Resolution:
1440 x 720 dpi
Print Speed:
Speed: up to 1,169 sq ft/hr1
Sports apparel: up to 568 sq ft/hr1
Fashion/signage: up to 1,004 sq ft/hr1
Ink:
Ink Type:
UltraChrome DS with High-Density Black ink; 4-colour
Ink Configuration:
C, M, Y, HDK
Replacement Ink:
UltraChrome DS Ink
High Density Black Ink Packs (T46C820)
Cyan Ink Packs (T46C220)
Magenta Ink Packs (T46C320)
Yellow Ink Packs (T46C420)
General:
Operating Systems:
Windows® 10 and 8.1
System Requirements:
Minimum PC Requirements: 2GHz CPU, 2GB RAM, 120GB HDD, DVD-ROM or Internet connection
Recommended PC Specifications: 3GHz or higher quad core CPU, 8GB RAM, 500GB SSD, and high-speed Internet connection
Temperature:
Operating (recommended): 59 ˚ to 77 ˚F (15 ˚ to 25 ˚C)
Operating: 59 ˚ to 95 ˚F (15 ˚ to 35 ˚C)
Humidity:
Operating (recommended): 40 – 60% (no condensation)
Operating: 20 – 80% (no condensation)
Sound Level:
Less than 59 dB(A) according to ISO 7779
Dimensions:
103" x 37" x 53" (2,620 mm x 934 mm x 1,332 mm) (W x D x H)
Weight:
639 lb (290 kg)
Country of Origin:
China
Warranty:
Standard 1-year limited warranty. Optional Epson Service programs available for a total of 3 years of coverage.
Ink Supply System:
Ink Supply Fill Volume:
3,000 mL each color x 4 colours total2
In-box Ink Fill Volume:
2,000 mL each color x 4 colors total2
Ink Shelf Life:
2 years from printed production date Printer is designed for use with Epson ink packs only, not third-party ink systems*.
Printable Area and Accuracy:
Maximum Paper Width:
64"
Minimum Paper Width:
11.8"
Maximum Printable Width:
Up to 63.6"
Sheet Media Handling:
Left/Right Margins:
0.20" (0.40" total)
Roll Media Handling:
Single Roll-to-Roll / Top-loading Roll:
64" wide
Media Core:
2" or 3" core diameter
Maximum Roll Diameter:
Up to 9.8"
Maximum Roll Weight:
Up to 100 lb
Media Thickness:
From 45 gsm to 1 mm thick
Take-up Reel:
Fully automatic "wind in" or "wind out" with tension control
Printer Details:
Printer Language:
Epson ESC/P® raster
Interfaces:
1000Base-T Ethernet (1 port)
Hi-Speed USB 2.0 (1 port)
Power:
Rated Voltage:
AC 100 – 120 V; 200 – 240 V
Rated Frequency:
50 / 60Hz
Power Consumption:
Printing: approx. 570 W or less
Power Off: approx 1.0 W
Sleep Mode: approx 17 W
Standby Heaters On: 340 W
Power Requirements:
Requires two outlets
Rated Current:
10.0 A at 100 – 120 V, 5.0 A at 200 – 240 V