Where the pros go for digital photo printers, supplies and expertise.
Specials, News, Announcements.
Fuji DX100 - Now with FREE Travel Case, Ink & Paper and Darkroom Software

The Fuji Frontier-S DX100 Printer - high-speed, low cost per print, and compact, the Fuji DX100 is ideal for photos with Santa, on-site events, high-volume portrait labs, sports and retail kiosks. If you are looking for true lab quality prints that are fast and affordable – up to 120 8x10's per hour for under 50 cents per print.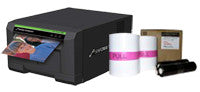 Free Media With Sinfonia CS2
Purchase the Sinfonia CS2 and get a free case of 4x6 media, that's 600 prints!
expires January 31, 2016
Refurbished DS80 Now Available
Buy refurbished and save! We now have refurbished DNP printers in stock ready for same day shipping. These printers have low print counts!
Refurbished DNP DS80 Printer - $595
includes 1 year warranty
Epson Rebates for 2016
We offer all Epson rebates as they become available.
NEW Double Perforated 6x8 Paper for Larger Photo Booth Strips!
Be the first to offer larger 2x8 photo booth strips by using double perforated 6x8 paper.
Learn more about our exclusive new media.
Perforated 6x8 Paper for Brava 21
Perforated 6x8 Paper for DS40
Buy a Sinfonia CE1 and get a Free Printer Bag and Media

$695

Sinfonia CE1 Printer, Printer Carrying Case and 8x10 Media Pack, a $1,003 value, expires January 31, 2016


Introducing the New Epson SureColor P-Series
Epson is launching a new line of Pro-Stylus printers that are worthy successors to the class-leading Stylus Pro 890 and 900 series printers. Get all the details at our blog.
HiTi P520L Special Offer
Get the new HiTi P 520L wireless compact photo printer with free wireless kit and free 500 print kit for just $799 while supplies last.
Free Printer Offer
20 cases of 5x7 photo media (6,800 prints) and Brava 21
$2,180.00
Purchase Now
20 cases of 6x8 photo media (6,000 prints) and Brava 21
$1,980.00
Purchase Now
Darkroom Booth 2 Now Available
The new version of Booth includes many exciting new features including
Facebook integration, MMS, Dropbox, retake and much more.
Epson Metallic Papers In Stock!
Introduced earlier this year, Epson's new metallic papers are catching on with our portrait and fine art customers. Check them out here. Would you like to try before you buy? Email our inkjet team for free 13x19 sample sheets.
Dry Lab Paper and Ink from Imaging Spectrum
Imaging Spectrum has been supplying customers with Dry Lab printers and supplies for many years and we carry a large assortment of papers and ink for your Dry Lab Printer. Most papers are universally compatible with most dry lab printers including Noritsu, Epson and Fuji. If you can't find what you are looking for or have any questions give us a call today and let one of our specialists help. Free same day UPS ground shipping. Click here to shop for Dry Lab Paper and Ink.
New - Printer / Photobooth Software Bundles

Building your own photobooth? Start with one of these great printers bundled with the most popular photobooth on the market - Darkoom Booth. Four printers to choose from. Trying to decide which printer is best for your business? Check out our blog post comparing photobooth printers.
Now Selling Refurbished Shinko S1245 Printers!
We have recently procured and are now selling Refurbished Shinko S1245 Printers with a 90 day warranty for only $295!
Refurbished Sinfonia / Shinko S1245 Printer (CHC-S1245B) - $295
SureLab D-Series Photographic Dry Lab - Save $2,000 with instant rebate
Aimed at the high volume, high quality portait and event photographer, the Epson SureLab D3000 dry lab printer has been developed to redefine photo lab print quality and provide portrait and event photographers with a smarter business solution. The compact design and ease of use allows for virtually any photo printing environment to have a photo lab on-site. Output 650 4x6 prints/hour or 260 8x10 prints/hour. Learn more about the new Epson SureLab here.