Specials, News, Announcements.
HiTi 510L on Sale - Only $650!
Our best-selling photobooth printer is now the best value too. Great for on-site printing events and photobooths - pick one up today.
Photos or Stickers from One Printer - Now In Stock!
Introducing the Brava 21 Photo Sticker Printer. Available soon from Imaging Spectrum, the Brava 21 utilizes standard and proven dye-sub printer technology that can print on regular dye-sub photo quality paper or print on photo quality sticker media.
Darkroom Booth now includes over $300 worth of Free Templates!
Over 75 print and 28 screen - these templates are professionally designed by Booth customers and design partners, they include screen and print templates and are easily customizable for your events within Darkroom Booth Software - no photoshop required! Themes include Holidays, Birthdays, Mitzvahs, Weddings, Greenscreen and more! Click Here to Buy Now! Click Here to Buy Now!
Get a Free Roll of Epson Paper!
Right now until May 31st if you buy 3 rolls of selected Epson Signature Worthy Paper, Epson will send you cash back for the third roll on a mail-in rebate!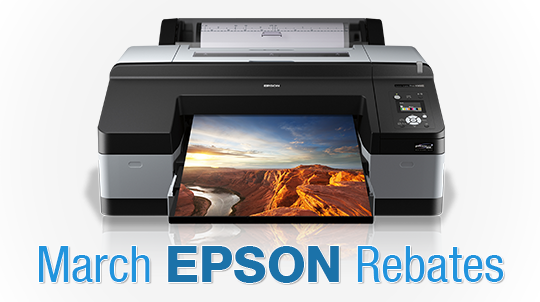 Epson Rebates extended through March
New Rebates on Epson Stylus Pro Printers, Epson S-Series Solvent Printers and the Epson SureLab D3000 dry lab printer. Click here for a complete list of Epson Savings.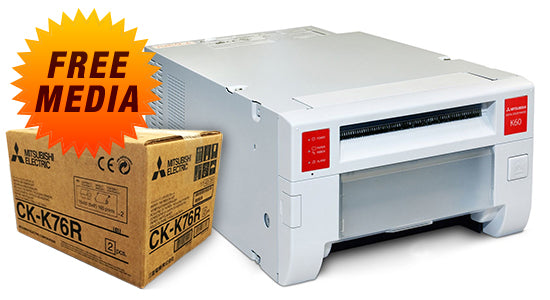 In Stock! Free Media! Mitsubishi CP-K60DW-S Photo Printer.
Targeted at the photo booth market, this new compact, moderately priced printer is also great for events. Buy now and receive a FREE box of 4x6 media with your order.
Sinfonia CS2 Photo Printer – Now Includes Free 3 Year Warranty
One of our most popular photo printers for on-site printing events and photo booths, the Sinfonia CS2 will print 4x6, 5x7 and 6x8. The CS2 will also cut a 4x6 into two 2x6 strips, perfect for the photo booth. The printer is on sale this month for $749 and now includes a FREE 3 Year Warranty making it our best value for a small format photo printer. You can also save on our software bundles: Darkroom Booth photo booth software and Darkroom Core sport, event and greenscreen software. Check out the CS2 here.
Mitsubishi Photo Printers Now Include 3 Year Warranty
Beautiful prints and peace of mind - purchase a Mitsubishi CP-K60DW-S, CP-D70DW or CP-D707DW photo printer and receive a 3 year extended warranty. Act today, promotion ends March 31, 2014. Questions about which printer is best for your application? Give us a call today.

Alternative to the DNP SnapLab Photo Kiosk
The DNP SL10 SnapLab has been discontinued. Looking for an alternative to this venerable self serve photo kiosk? Check out the offerings from HiTi: the HiTi 510S and the HiTi 510K - both with a new low price.
Free 3-Year Warranty on DNP Photo Printers
January 12 through March 28 purchase a DNP DS40, DNP DS80 or DNP DS-RX1 and receive a 3-Year Advanced Exchange Service Contract at no charge. A $399 value the AE warranty is a great way to protect your photo printer investment. Click one of the printers above or read more on our blog.

HUGE DNP PRINTER SALE!
This is the Lowest Price of the Year!
DNP DSRX1 Thermal Printer (DSRX1) - $725
DNP DS40 Dye Sub Printer (DS40) - $995
DNP DS80 Dye Sub Printer (DS80) - $1370
While supplies last.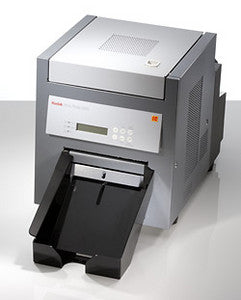 New Kodak Compatible Media from DNP
DNP recently introduced a lower cost Kodak compatible media for the 6800 and 6850 photo printers. Read more on our blog. The DNP media cost is about 30% less than Kodak and is in stock. Order today.
New - Printer / Photobooth Software Bundles

Building your own photobooth? Start with one of these great printers bundled with the most popular photobooth on the market - Darkoom Booth. Four printers to choose from. Trying to decide which printer is best for your business? Check out our blog post comparing photobooth printers.
Epson® Exhibition Canvas Mail-in Rebate
Buy 3 rolls of Epson Exhibition Canvas and get a mail-in rebate for the cost of one roll! Click here for more information!
DNP releases new version of Mobile Party Print
Mobile Party Print is the wireless event photography solution for use with iOS, Android phones, and tablets. Version 1.5 is easier to set up and operate. Check it out here.
Fuji Announces New DX100 Printer - Super Fast, Super Low Cost Per Print & Under $3,500!
Compact and fast, the Frontier-S DX100 can produce prints from 3.5" x 5" up to 8 x 39" high quality images and allows for a wider color gamut, finer grain, smoother gradation in backgrounds and improved skin tones. The Frontier-S DX100 meets the diverse needs and challenges of the retail minilab, retail kiosk and Event photography. Check out the DX100 here.
Epson Stylus Pro 7900 Refurbished Printers
We currently have a few refurbished Epson Stylus Pro 7900 printers in stock. These printers are refurbished by Epson and carry a full 1 year Epson warranty. Save over $500. Hurry – these won't last long. Check out the refurbished 7900's here.
New Passport Photo System s420

Create high quality passport photos quickly and efficiently with the New Passport Photo System s420. Includes camera, HiTi s420 printer and enough media to make 50 photos for under $500!. Read more about it on our blog or buy now.
Darkroom Booth Now Available

Darkroom Software's newest product - Booth - is now available. Make your photo booth stand out from the crowd with the industry's easiest to use and customize photo booth software solution. You can buy Booth alone or bundle it with a photo booth printer and save.
You can also try Darkroom Booth for FREE by clicking here.
Shinko S1245 8x10/8x12 Photo Printer on Sale. Save $600!

We have a limited number of Shinko S1245 Photo Printers available at the Sale price of $895. This is a savings of $600! These are brand new printers with a full one year manufacturer warranty. The S1245 is a workhorse of a printer, well-known for its rugged durability and reliability.
Shinko S1245 8x10/8x12 Photo Printer - $895 - Save $600
Shinko S1245 bundled with two boxes of 8x10 media $1,395 - Save $690
Shinko S1245 Bundled with Darkroom Core Software - $1,295 - Save $700
SureLab D-Series Photographic Dry Lab
-
Save $2,000 with rebate
Aimed at the high volume, high quality portait and event photographer, the
Epson SureLab D3000
dry lab printer has been developed to redefine photo lab print quality and provide portrait and event photographers with a smarter business solution. The compact design and ease of use allows for virtually any photo printing environment to have a photo lab on-site. Output 650 4x6 prints/hour or 260 8x10 prints/hour. Learn more about the new Epson SureLab
here
.
New Extended Warranties Available for DNP Photo Printers

Take the risk out of ownership by minimizing unexpected repair costs and protect yourself against donwtime during peak usage with a DNP 3-Year Extended Warranty. Available for the DS40, DS80, DSRX1, ID400 and SL10 SnapLab.
Protect your Photo Printer Investment with new Printer Case

Do you transport your dye-sub printer from one event to another? If so you might want to consider a padded case to protect and more easily carry your photo printer. We now have a new improved carrying case to help you get the job done. Read more about it on our blog or buy now.
Easily fits carries the following most popular on-site photo printers:
HiTi P510L
DNP DS-RX1
Sinfonia CS2
DNP DS40
Click here for a complete list of printers.
Which is the Most Economical Printer?
Wondering which dye-sub printer has the lowest cost per print? A few pennies per print can make a big difference if your business involves high volumes of prints.

4x6 - HiTi 720L at $0.135 per 4x6 print
5x7 - HiTi 720L at $0.29 per 5x7 print
6x8 - DNP DS40 at $0.37 per 6x8 print
8x10 - DNP DS80 at$0.92 per 8x10 print
See all dye-sub photo printers side by side with our Printer Comparison